Endo
エンドウ (Endō)

Appearances:
First Appearance

AO Anime Episode 12

Last Appearance

AO Anime Episode 13

Voiced by:
Japanese
English
Biological Information
Race

Human

Physical description
Gender

Male

Hair color
Eye color
Personal Information
Allies
Enemies
Endo (エンドウ, Endō) is a character in Eureka Seven: AO. He is voiced by Bin Sasaki.
He was a member of the Japanese army. He was killed by Truth after protecting Ao from him.
Character
Edit
Colonel Endo was the sole JAF survivor from the Scub Burst that hit Okinawa 10 years prior. He fought alongside Ivica Tanović during the same Scub Burst. Eureka mentions that she knows both of them on the way to the Scub Burst, because of her past self that strayed into Ao's world onboard the Gekko in the future, although she appears to have a solemn look when speaking to Endo due to his fate when she first arrived in Ao's world. Before making landfall, Eureka asks him to look over Ao if something were to happen to her. This implies that Eureka is directly responsible for his death because of her request to him to take care of Ao had to set up his death to protect Ao because of what happened to his future self and her past self onboard the Gekko.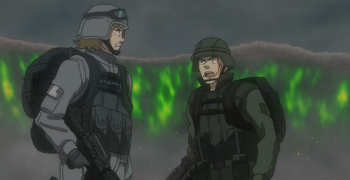 After the Gekko lands on Ao's world, he is brought out of the reserves to presumably negotiate with Eureka and bring her to the JAF. After capturing Eureka, she reveals that she doesn't know who he is as this is the first time Eureka has strayed into Ao's world. He is eventually killed by Truth for fulfilling his oath to Eureka to protect Ao.
Ad blocker interference detected!
Wikia is a free-to-use site that makes money from advertising. We have a modified experience for viewers using ad blockers

Wikia is not accessible if you've made further modifications. Remove the custom ad blocker rule(s) and the page will load as expected.