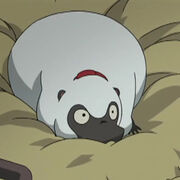 Gulliver is the pet of Anemone. It is immensely overweight, and therefore can not be easily transported or moved.
Later on in the series, Dominic Sorel takes the job of looking after Gulliver after finding him stowed away in his briefcase. The animal immediately takes a liking to Dominic's bed and could not be moved from its place. It seems to enjoy eating jam. He seems to take a liking to Dominic over time, and wishes to come with him to stop Anemone from destroying the Scub Coral Control Cluster. After theEND's Vascud Crisis knocks Dominic off the ref board he was on after the high speed craft he was piloting was destroyed, Anemone jumps out of theEND to go after Dominic and Gulliver pulls them together.
Ad blocker interference detected!
Wikia is a free-to-use site that makes money from advertising. We have a modified experience for viewers using ad blockers

Wikia is not accessible if you've made further modifications. Remove the custom ad blocker rule(s) and the page will load as expected.