Under Construction
This page is under construction. Please be patient. More information will be uploaded shortly.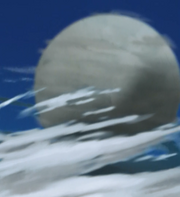 Kute-Class Coralians
are beings created by the
Scub Coral
. Not much is known about what they are, why they appear and when they appear. Prior to the
Oratorio Number 8
attacks that
Dewey Novak
used to make them appear, along with the
Antibody Coralians
, Kute-Classes were said to appear very rarely and without the Antibody Coralians. It seems they have some destructive abilities as it damaged a nearby town, without the aid of the Antibody Coralians in episode 13:
The Beginning
. They appear for exactly 1246 seconds which is the same length as the
Seven Swell Phenomenon
.
Eureka, Renton Thurston and Anemone are the only known people who have entered the zone of the Kute-Class. After entering it, they went into a dream-like state which ended once Eureka's brain wave pattern caught up to, and mimicked Rentons.
Ad blocker interference detected!
Wikia is a free-to-use site that makes money from advertising. We have a modified experience for viewers using ad blockers

Wikia is not accessible if you've made further modifications. Remove the custom ad blocker rule(s) and the page will load as expected.